23rd Annual Lawrence H. Schneider, MD Lectureship
& Resident/Fellow Paper Competition
"Contemporary Surgical Management of Symptomatic Neuroma in 2022"
Honored Visiting Professor
Kyle R. Eberlin, MD
Associate Professor, Division of Plastic Surgery
Massachusetts General Hospital
Boston, MA
June 29, 2022
Estia Restaurant
1405-07 Locust Street
Philadelphia, PA 19102
Click HERE to register
Click HERE to download invitation
---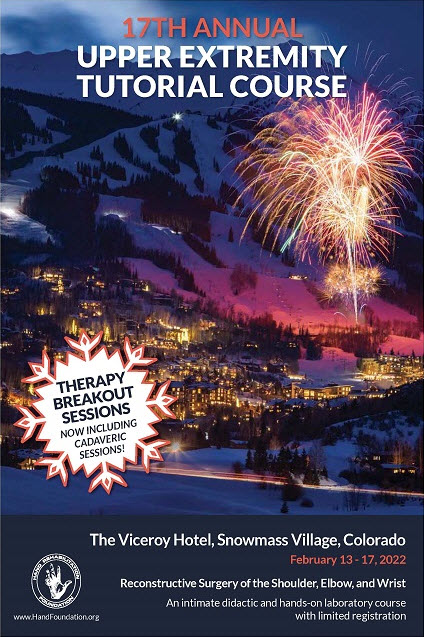 17th ANNUAL UPPER EXTREMITY TUTORIAL
February 13 – 17, 2022
Snowmass Village, CO Placing the Hand in Space: Reconstructive Surgery of the Shoulder, Elbow and Wrist
Click HERE to Register
Click HERE for Event Brochure
Reserve your room at the Viceroy:
Call 877-235-7577 and use Booking Code: WRIST2022
Viceroy Reservations:
Click HERE

Overflow Hotel information:
Click Here

TICKET & EQUIPMENT PRICING:
Click HERE

ATTENTION EXHIBITORS!
Click HERE for Exhibitor's Prospectus!
Click HERE for Booth Registration
---
Surgery and Rehabilitation of the Hand Symposium
REGISTER TODAY for the VIRTUAL 2022 Meeting!!
THERAPY MEETING
Registration: Click HERE to register for THERAPY Meeting
There are no upcoming events to display at this time.